---
Learning & Activities at the 999 Club can help you to learn new skills and build your confidence. Almost every day there are different workshops to take part in.
We run workshops to help you learn skills such as reading and writing, English, and how to use a computer. We also offer workshops and courses as part of our Employability Support.
We can give you the opportunity to take nationally recognised qualifications, such as a food safety certificate, or first aid course.
We have workshops and groups that can help you to express your creativity and learn life skills, including art, creative writing, yoga, gardening and cooking.
Everyone who takes part in our Learning & Activities says what a positive impact they have on their mood and their lives. It doesn't matter if you have never done the activity before, the 999 Club gives you a chance to try something new in a friendly place. You'll be surprised by what you can achieve.
As well as our regular activities we have one-off trips and projects:
Cardboard Citizens have been to the 999 Club to perform their play Cathy, and we took part, taking the place of different characters in the play.
The Choir with No Name have been here to run a singing workshop.
A local ceramic artist helped us make a mosaic to celebrate our 25th Anniversary.
We have made a film about life at the 999 Club , written, directed and produced by people who have experienced homelessness.
We have produced a booklet of our poetry.
We have been to the Tate Modern Art Gallery.
We have been to the Reach Climbing Wall in Woolwich. And everyone who made it to the top, or even halfway to the top, made it back down again.
To take part in Learning & Activities at the 999 Club, look out for signs in the Gateway, or talk to Zisca about what's coming up.
Got a skill to share?
We are always looking for people who can help run our learning & activity sessions. So if you are great at something, and would like to share it with local people who have experienced homelessness, we would love to hear from you.
Tell us your skill
---
---
How our classes are empowering people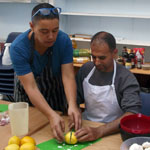 "I was an angry person earlier on. I was thinking about beating someone up.  But the yoga class has made me think positive. The breathing helped me-I don't care about it now. It helped me get it out. It was brilliant."
"The drama is good as it makes everybody feel at home and appreciated.  You feel there are other people who feel like you-you're not struggling alone. You feel consoled".
"Sometimes I feel I could have learned how to use the computer a long time ago, and so I feel a bit embarrassed.  I'm really enjoying the Basic Computer class.  I'm feeling a bit more confident"."It's good to do activities, it stimulates the brain".
---

Event calendar
"It helps me to have an hour to not think about my situation of being homeless."Guest taking part in art classes
"I liked working together in a team, We should do it more often."Guest taking part in cooking classes
---